American Day 2019 was held in Kobe
日本語はこちら→
American Day 2019, sponsored by the U.S. Consulate General Osaka and Kobe and supported by Japan-America Society of Kobe, was held as below.
1. Time: Saturday, September 7, 2019 from 10:30 AM to 4:30 PM
2. Place: Higashi-yuenchi (park), Kobe (south of Kobe City Hall)
3. Sponsor: U.S. Consulate General Osaka and Kobe
4. Supporters: Kobe City, Japan-America Society of Kobe, and ACCJ (American Chamber of Commerce in Japan)
5. Contents:
・Introduction to Studying in the USA
・Introduction to Visa Applications for the USA
・Introduction to American Foods
・Special Talk Program (Mr. Marty Kuehnert and Masayuki Tamaki)
・Live Performance (Jazz, Hawaiian, and Country)
6. Entrance Fee: Free
American Day was held in Nishinomiya in 2012 for the first time, and has been held every year afterwards in Osaka, Sakai, and Higashiosaka. American Day 2019 was held at Kobe Higashi-yuenchi (park) where the Consulate General had been placed before moving to Osaka as the Homecoming Day after 32 years.
First, Ms. Karen Kelly, Consul General gave a speech at the opening ceremony to start the event. And then there were introductions by each group which were exhibiting in the booths.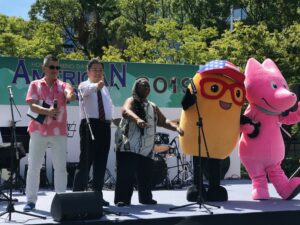 The groups and the content they introduced:
・U.S. Consulate General: Studying in the USA, Visa Acquisition, American Foods
・Special Olympics Japan, Hyogo
・Rugby World Cup 2019 in Kobe
・World Masters Games 2021 in Kansai
A variety of live American music was performed and livened up the atmosphere of the event.
< Genre of music, performers>
・Jazz: Kobe Youth Jazz Orchestra featuring Yoko Sakai
・Hawaiian: HOENE & Hulagroup
・Jazz: Tomoe Kobashi with Jazz Quartet
・Country: Kazuhiro Inaba Group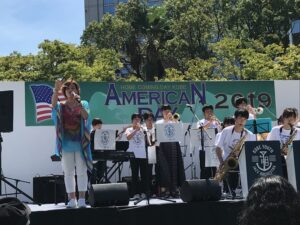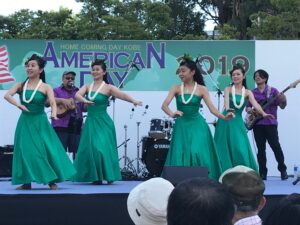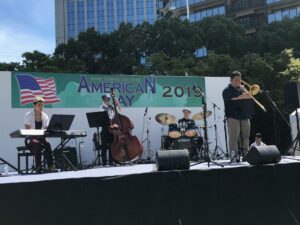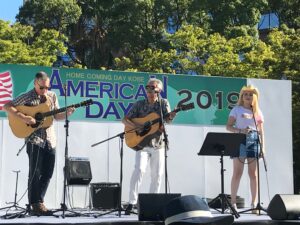 The main event for this day was the Special Talk by Marty Kuehnert and Masayuki Tamaki. We could hear interesting topics of the differences between sports in Japan and America.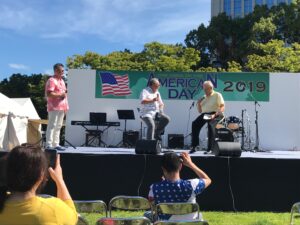 The difference between sports in Japan and America is guts vs. science. In Japan, people often do physical exercise without having water for long time, while in America people exercise thinking scientific data is important.
In Japan, people who do sports tend to do only sports, while in America people tend to think both the academic and military arts are important. Universities that are good in scholarship (academic ability), such as Princeton, Harvard, Stanford, and Yale, are also good in sports. In American universities students cannot take part in games when they have low grades.
Shaquille Rashaun O'Neal, an ex-NBA player, took a master's degree and a doctorate after he retired from playing in the NBA. Gail Eason Hopkins, a professional ex-baseball player who played successfully at Hiroshima Carp in Japan, was already a good reader when he was an active player, and after he retired, he went on to a medical university and became an orthopaedist. There is a proverb in Japan; "He who runs after two hares will catch neither," which is non-sense. People have various abilities, and they should improve them.
In America, each person does various sports depending on the seasons, while in Japan each person mostly tends to play only one sport.
Sports in American universities is a culture itself. Arenas of universities are large and ones which can accommodate 20,000 people are common. Sports events are special for each region, and the whole area will liven up.
Annual incomes of people involved in sports are high in general. It is said that one of the main coaches of American football at the University of Alabama has an income of 1,200 million yen and the sum of the annual incomes of all the coaches is 2,500 million yen. After paying all those, 5,000 million yen still remains as a profit.
They are trying to establish a Japanese version of NCAA imitating America, but America has a long history of sports culture. You cannot do the same in a day.
No matter how often the team loses, the fans of Hanshin Tigers will support them; that's the sports culture itself! It is said that Randy William Bass, the famous ex-player of the Tigers who hit one of the 3 home runs in a row to the centerfield scoreboard will be filmed.

Except for the exhibitions in the booths and the shows on the stage, a miniature rugby playground where you can chase an oval ball was established on the lawn field, and it was crowded with many families with children.
In the end, a lottery was held, and wonderful prizes were presented by the Consulate General and the other exhibitors, and the crowd cheered wildly.
■Scenes of the American Day 2019