The 27th English Recitation Contest for High School Freshmen was held
On Nov. 23rd, Labor Thanksgiving Day, there was held the 27th English Recitation Contest for High School Freshmen sponsored by the Japan-America Society of Kobe at the "Event Hall" of Kobe Chamber of Commerce and Industry Building. Divided in two parts, AM and PM, there participated 54 students from 54 high schools, and the recitation contest was enthusiastically performed. The recitation theme for this year was the speech given by entrepreneur and educator, Tina Seelig, in the commencement for Stanford's Online High School, "Who Will Hold Your Story?"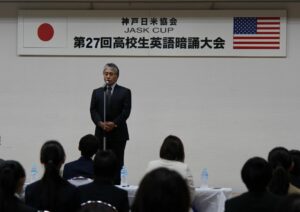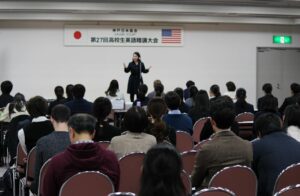 At the beginning, on behalf of the Japan-America Society of Kobe, Mr. Shigeki Matsuda, one of the advisers of the Society, gave an Opening Address, and the contest started. The judges were Ms. Yuan Lei, a coordinator for International Relations of Hyogo Prefecture; Mr. Leo Luchuk, a member of the International Department, Office of Mayor, Kobe City; Mr. Eiji Matsuda, the next vice president of the Junior Chamber International Kobe; and Ms. Aika Yasui, a member of the Japan-America Society of Kobe. The students all performed wholeheartedly with many gestures, and the competition was very intense. After finishing all the performances, in the morning and the afternoon, commemorative group photographs were taken and the contest came to an end.
By strict judging, the finalists will be chosen, and the final contest will be held on Jan. 26th, 2020.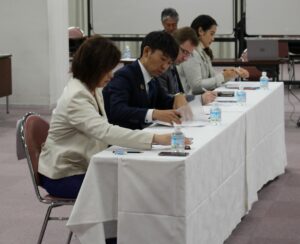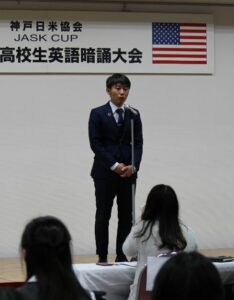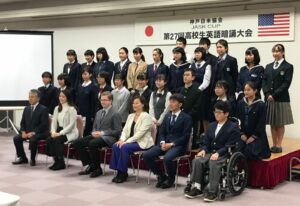 ■Opening Address by Mr. Shigeki Matsuda, JASK adviser
I can detect much more nervousness from the families of the high school freshmen who might have heard them practice dozens of times than that of the high school freshmen themselves. JAPAN‐AMERICA SOCIETY OF KOBE (JASK) is a historical association, which was established in 1908 for the purpose of contributing to friendship and goodwill between Japanese and American citizens. The English Recitation Contest for High School Freshmen was started in order to let students know the culture and history of America through spoken English words. In old times, Kennedy's presidential inaugural address was also selected as a recitation subject. This is the 27th JASK CUP English Recitation Contest this year. We have continued this long because of the support of many people; the teachers who guide the students; the families who have heard them practice so often that they get calluses on their ears; and the judges. I thank all of you.
High School Freshmen participants, only one of you can win the championship, but make this contest a good chance to interact with each other and to learn further! Do your best!
■Judge, Ms. Yuan Lei's comment
Thank you for coming out here today to participate and for putting in such great efforts towards your speeches. It was great listening to your speeches. I can really see the hard work that you had done with each presentation. It must have taken a lot of practice to do so and I really appreciate that. So thank you again for coming out here and sharing this with us, and thank you to the family members and teachers for making it here as well.
■Judge, Mr. Leo Luchuk's comment
First of all, I would like to congratulate you all on a wonderful performance. I noticed that some of you were a little nervous, but you really did not need to be, because you all did a great job.
Coming here, I was a little worried about judging so many people recite the same speech – how would I differentiate these speeches? But the truth is, you personalized these speeches and filled them with your emotions, which made them all completely different. So once again, you all did a great job!
Lastly, I would like to wish you best of luck with your future studies, and thank you very much for today.
■Closing Address by Mr. Eiji Matsuda, next vice president of the Junior Chamber International Kobe
Everyone, thank you for your hard work! Seeing your nervousness, we, the judges have also gotten nervous. Having practiced reciting will be a good experience for the future. I wonder how nervous the families and teachers have gotten too. Thank you for your wonderful recitation! When I was a student, there were no global opportunities. Making good use of this experience, I hope you grow as a global individual and contribute to the international society and economy.
I wish you great happiness.
<To the participants, their families and the teachers>
To see the photographs of you in the contest, click the link. ⇒Photographs
*Enter the password of which we informed you in the preliminary contest.
*If you do not know the password, please let us know. JAPAN-AMERICA SOCIETY OF KOBE