Soryoji Cafe (Online) was Held
On 11th May (MON) 14:30-16:00, Soryoji Cafe (Consul General's Cafe), hosted by the U.S. Consulate General Osaka-Kobe, was held, which targeted at 25 high school students who participated in an English Recitation Contest organized by the Japan-America Society of Kobe.
During the first half of the agenda, Consul General Karen Kelley, Consul Alicia Edwards (in charge of PR), and some other staff members of the Consulate General, gave a presentation about the role of the U.S. Consulate General, advice for studying abroad in the U.S., and tips for successfully studying abroad.
The second half included a group discussion time where participants broke up into 5 groups and discussed the following themes in English: "What do you dream of doing in your career?" "If you could travel anywhere in the world, where would you go? What would you do there?" "In your opinion, when is the ideal time to study abroad? Why?" After that, we went back to the main room again, and the representative from each group presented their discussion results. After the Q&A session, Soryoji Cafe was closed after having inspired the students.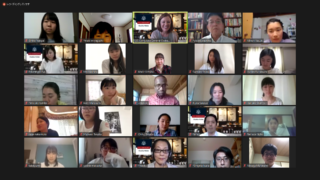 Some student comments from a follow-up questionnaire included the following: "It was good to learn about the job at the Consulate General and studying abroad." "I feel I want to visit the U.S. after hearing the attractiveness of it." "I understand Cafe was held online due to COVID-19, but I hope we can do face-to-face discussion next time."
We hope this Cafe experience will trigger students to think further about their studies and future.