The final round of the 27th English Recitation Contest for High School Freshmen was held
日本語はこちら→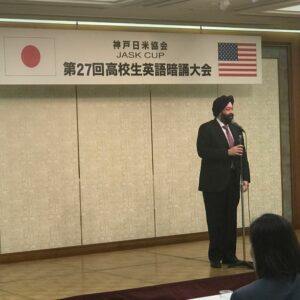 On Jan. 26th, there was held the final round of the 27th English Recitation Contest for High School Freshmen sponsored by the Japan-America Society of Kobe at the Banquet hall Nunobiki / Kitano of KOBE PORTOPIA HOTEL. 13 high school freshmen who won through the preliminary round participated, and the recitation contest was enthusiastically performed. The recitation theme for this year's final round was the presentation to invite Tokyo Olympic Games in 1964 by Kazushige Hirasawa (extract). The speech showed the feelings of the people at that time who were eager for holding the Olympic Games for the first time, not only in Japan, but also in Asia. "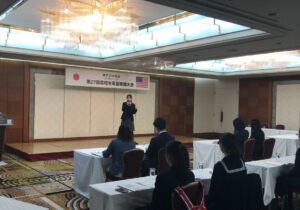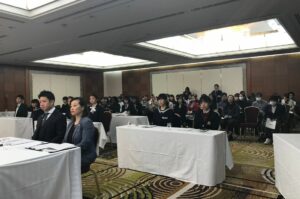 At the beginning, on behalf of the Japan-America Society of Kobe, Mr. Kiran S. Sethi, one of the advisers of the Society and the president of JUPITER INTERNATIONAL CORPORATION, gave an Opening Address, and the contest started. The judges were Ms. Alicia Edwards, Public Affairs Officer of American Consulate General Osaka-Kobe; Ms. Yuan Lei, a coordinator for International Relations of Hyogo Prefecture; Ms. Joy Sung, a member of the International Department, Office of Mayor, Kobe City; Mr. Tomohiro Kawatani, President of the Junior Chamber International Kobe; and Ms. Aika Yasui, a member of the Japan-America Society of Kobe. The students all performed wholeheartedly, and the competition was very intense. This year, participants could use either a hand microphone or a pin microphone, so they performed freely with more gestures.
Before the awards ceremony, there were prepared snacks and soft drinks in another room and the students, their parents, teachers as well as the judges gathered together, and the exchange meeting began. The students were enjoying chattering with smiles, now released from tension of performing.
At the beginning of the awards ceremony, souvenirs were presented to every student. The souvenirs for this year were light bags and commemorative medallions which are both TOKYO 2020 OFFICIAL LICENCED PRODUCTS in commemoration of TOKYO 2020 Olympic and Paralympic Games. On the medallions each name of the finalists was engraved by letters of the alphabet.
And then, commemorative group photographs were taken, and finally the prize-winners were announced. By strict judging, the prize-winners were decided as follows;
 The 1st place (JASK CUP AWARD): Ms. Aimu Takayama, from Kwansei Gakuin Senior High School
 The 2nd place (AMERICAN CONSUL GENERAL'S AWARD): Mr. Kodai Ikeda from Hyogo Prefectural Amagasaki Inazono High School
 The 3rd place (THE MOST EXCITING SPEAKER AWARD): Ms. Ami Kawatani from Hyogo Prefectural Takarazuka Kita High School
Testimonials were presented to each of them, and a cup was presented to the champion.
At the end of the ceremony, Ms. Edwards gave a Closing Address. In it she admired them for their performances, and closed her address with a surprising announcement that the finalists will be invited to the U.S. Consul General.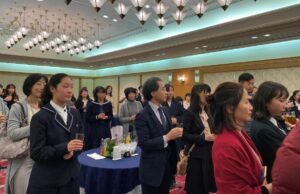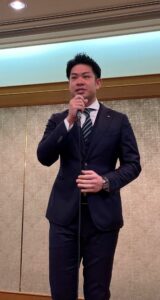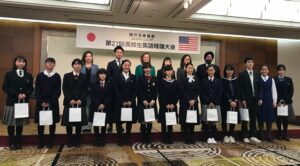 ■Opening Address by Mr. Kiran S. Sethi, Adviser of the Japan-America Society of Kobe
Japan-America Society of Kobe has had a long history of over 100 years and has held numerous activities for the purpose of developing mutual understanding of peoples between Japan and the USA. Among those projects is the JASK CUP English Recitation Contest for High School Freshmen, of which we are having for the 27th time this year.
I have observed the contest for almost 20 years and it is delightful to see that every year the level of the performances by the students are showing tremendous developments. There are 13 participants today that have overcome the challenge of the preliminary contest. You should all be extremely proud of your performances.
You all must have spent tremendous time and effort practicing for today, including adding creative gestures. Today, I simply ask bring the best out in you and be yourself. Of course, this being a contest, we will need to rank 1st , 2nd and 3rd places, but do consider each of yourselves as the winners by being here today.
Taking advantage of what you have learned from this English recitation contest, we hope you will continue to use your English capability to broaden your horizon and go out into the real world succeed academically and then professionally!
Relax, enjoy and have a wonderful day! Thank you.
■Closing Address by Ms. Alicia Edwards, Public Affairs Officer of American Consulate General Osaka-Kobe
I'm so delighted to see all of you here today, and to see all of hard work and effort that you put in practicing and studying English. I think you all understand how important it is in today's world to master the skills of English communication for your futures, for your careers. And in your education, you're doing a great job and I want to give you applause.
Because this is such a critical component of becoming a global citizen and having a global career, I want to encourage you to think about the possibility to study abroad in your future if you haven't had the opportunity yet.
[…]
I'm pleased to announce today we are extending a special invitation to all of today's finalists along with the finalists from last year's competition to come and visit us at the Consulate General in Osaka.
[…]
On that day, we hope you will be welcomed by our Consul General, Karen Kelly, and receive a briefing about what it is that we do, what America does in Japan, how we work together, and get some information about study abroad opportunities.
So, we look forward to welcoming you at the Consulate and again congratulations!
<To the participants, their families and the teachers>
To see the photographs of you in the contest, click the link. ⇒Photographs
*Enter the password of which we informed you in the preliminary contest.
*If you do not know the password, please let us know. JAPAN-AMERICA SOCIETY OF KOBE