★The 30th English Recitation Contest for High School Freshmen was held
The preliminary round of the Kobe Japan America Society's 30th English Recitation Contest for High School Students was held on Wednesday, November 23, 2022, and the final round was held on Sunday, January 29, 2023. Fifty-five first-year high school students participated in the preliminary round. Ten students who passed the preliminary round participated in the final round and gave enthusiastic presentations. This year's pre-selection recitation was Greta Toonberg's speech at the Youth Climate Summit 2021 (excerpt), and the final round recitation was Hannah Testa's TEDx speech "Youth Activism: Activating Your Voice" (excerpt). The speech is an appeal to world leaders and young people to recognize the problem and take action on environmental issues, which are now an urgent issue on a global level.
the prize-winners
The 1st place (JASK CUP AWARD): Ms. XIMAN LIU, from Hyogo Prefectural Kobe senior high school
The 2nd place (AMERICAN CONSUL GENERAL'S AWARD): Ms. Michie Sakamoto, from Akashi-nishi High School
The 3rd place (THE MOST EXCITING SPEAKER AWARD): A tie between Mr. Yuzen Shimizu, from Suma Gakuen Highschool and Mr. Naomasa Kishi from Konan Boys' High School.
It was clear that everyone had worked hard to understand and practice their speeches, and all the presentations were of a very high level.
At the end of the ceremony, Mr. Tadahiko Okazaki, the Presidents of the Japan-America Society of Kobe, gave a Closing Address and applauded all participants. After taking the online group picture, the contest ended.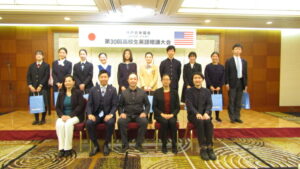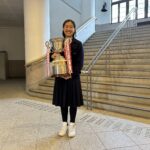 Top: Finalists and judges ー from left: Ms. Aika Yasui, Mr. Daisuke Miyazaki, President of JCI Kobe 2023, Ms. Tadahiko Okazaki, President of the Japan America Society of Kobe, Ms. Joy Sung, Kobe City official, and Mr. Sheng Qin, Hyogo Prefectural International Affairs Division.
Bottom: Ms. XIMAN LIU with the winning cup.